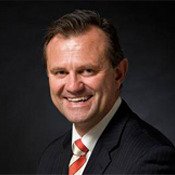 Martin Ricci
Principal Solicitor
Martin has practised in criminal law in Australia for more than 25 years. He was admitted in NSW in 1992 and established The Law Practice in 1997. He specialises in criminal law and particularly in the areas of advocacy, plea negotiation, strategy and complicated trial work.
Martin is respected throughout the legal industry by both prosecutors and defence alike and by the magistrates and the judges before whom he appears. He is a dedicated professional who prides himself on providing  "top-end" legal consultancy service from the moment his clients are charged, right through to the successful completion of their matters.
Martin is committed to his client and to successfully negotiating the difficult matters confronting them.
Respecting the rights of the individual and a "fair go for all" is at the core of Martin's philosophy. And while he is a tenacious advocate, a superb "plea negotiator" and a formidable strategist he always strives to provide practical and realistic legal advice to his clients and their families in the circumstances.